Hello!
First, I want to say a heartfelt thank you for your support over the past few weeks since announcing our decision to close. We thank you for your patience as we attempt to navigate what is happening in the world right now. We hope all of our families are staying home and staying healthy. Unfortunately, we are unsure when we will be able to hold classes in-person again but will continue to take it day by day.
Our teachers have been working hard to bring you an assortment of online classes and offerings! Thanks to technology, we will be opening our digital doors and will be providing you with an online dance experience for your dancer to keep them moving, learning, interacting with their friends and having fun during this time.
-Online classes will be held live on Hangouts Meet by Google according to the schedule. You can use a laptop, phone, or tablet, to join these classes!
-Each class has a Google Classroom where instructors have been diligently uploading recital practice links, recital music, activities and handouts, and more. You can access these materials at anytime!
-24-48 hours after each live class, a recording of the class will be uploaded to the Google Classroom for those that missed the live class (or those who want to participate again!) You can take this class whenever it works with your schedule or over and over again!
Each class will be approximately 45 minutes long. Please be patient as we may encounter some technical difficulties and will work through these as efficiently as possible.
We have found ourselves in a new normal for the time being and we are committed to continuing to offer you the best customer service and dance experience! We deeply thank you for your support during this time. As a small business owner, your continued dedication to our mission to provide your child with invaluable life skills through dance ensures we can continue doing the work we do. If you have any questions, do not hesitate to contact me. Otherwise, we will see you inside our Digital Dance Studio!
My best,
Miss Kristen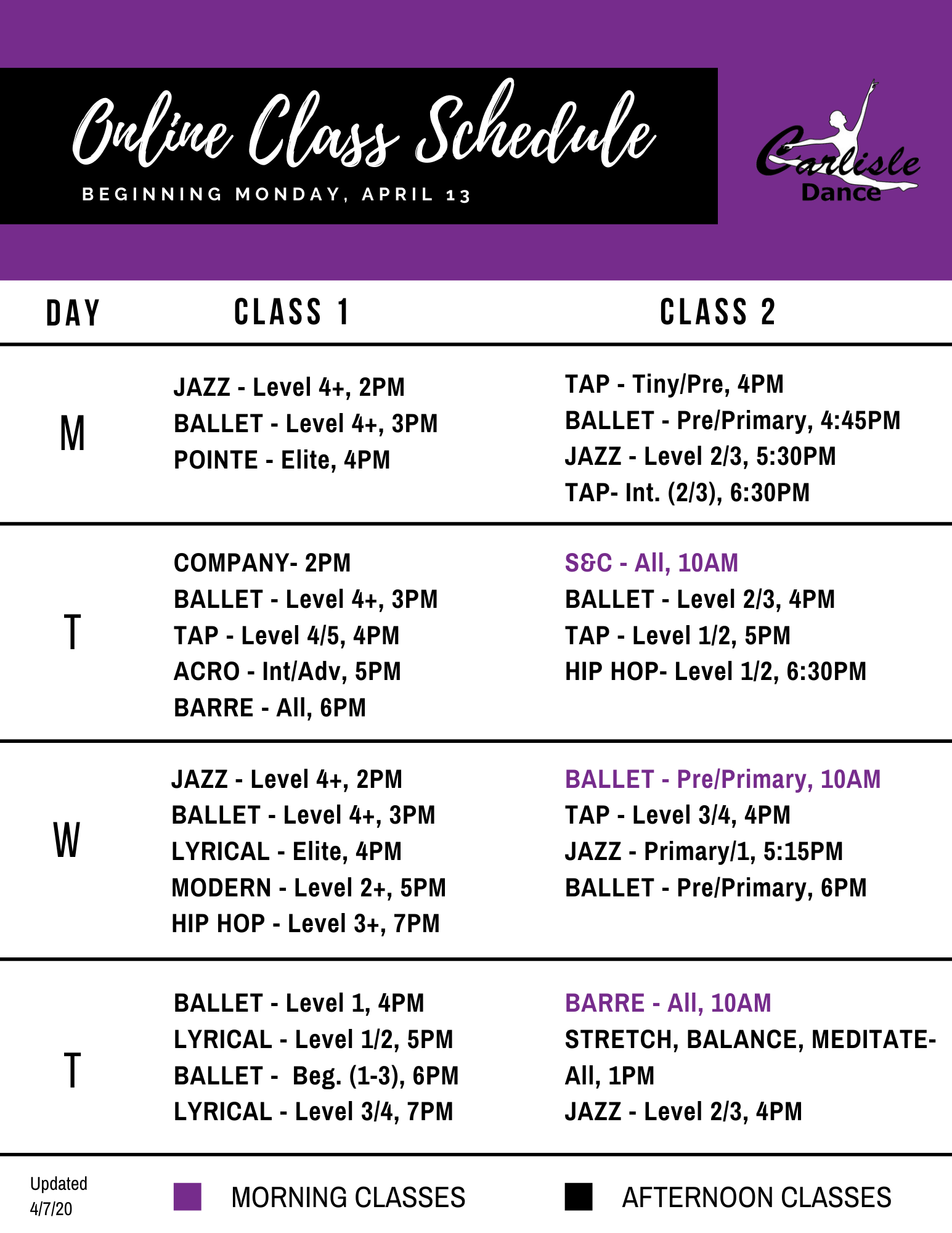 Carlisle Dance is open and continuing with our Online Dance Studio and providing virtual dance classes to our students until it is deemed safe to return to the studio. Classes for the Fall/Spring session will continue virtually through May 29th (with no classes on Memorial Day, Monday, May 25th.) We will continue to follow PA's mandates for closure. If we are able to open for any portion of the month, even in limited capacity, we will let you know. See schedule above.

Tuition will process on May 1st, as normal. May tuition will be the last tuition payment for this season. We will continue to discount all tuition by 10%. We do recognize that individual circumstances are unique and want to do our very best to accommodate our studio families and their needs during this time. If you need more assistance, please reach out to us. We will evaluate each situation and do our best to work with you. You will not be charged in June or after, unless you register for a summer package.
We understand that an in-person recital review will be necessary prior to any recital/showcase. You will not be charged tuition for these review sessions. Instead, your recital fee (or a portion of your recital fee) would be due at that time.
Both the recital and picture day fees have been removed from your account and will not process automatically. If you have paid these fees already, you will see a credit on your account. When we are confident enough to schedule these events, we will let you know and update these payment due dates.
Costumes are non-refundable. Costumes come from many different third-party suppliers and have been paid for and supplied to you. They are yours to keep. Unfortunately, these suppliers will not be offering us refunds so, therefore, we simply cannot offer you a refund.
We plan to provide dancers with an opportunity to wear their costumes at a recital/showcase and a picture day. We are staying in touch with our suppliers and are hopeful they will give us some relief on exchanges should your dancer outgrow their costume prior to any performance.
If you were absent during distribution and would like your costume in-hand, please let us know. We would be happy to mail those to you or do a non-contact porch drop off.

The show must go on!
We remain optimistic that we will be able to hold the recital in some capacity, if the state & federal governments allow us to do so.  However, our current recital date is postponed. 
At the end of our time at home, we are expecting guidance on limitations regarding large events; however, until specific guidelines are released, we are unable to set a recital date or give you any concrete details. Please be patient with us as we do our best to work our way through this situation.  As things continue to unfold in the coming weeks, we will be in touch with updates.
With the closure of the schools for the remainder of the year, we are unable to use Cumberland Valley's Performing Arts Center through the end of the school year, and potentially through the entire summer. We are waiting to hear when Cumberland Valley will be renting their facilities again. We understand a normal recital won't be possible, but are looking into several possible performance options, such as:
Limiting the number of audience members per student
Having classes perform without an audience and streaming the performance
Holding the recital at an outdoor venue
Holding a series of mini-recitals with only a few classes performing at a time
Recording each recital dance with or without an audience and compiling a recital dvd that can be streamed and/or downloaded at a later date
Prior to any performance or showcase, in-person recital review will be necessary. You will not be charged tuition for these review sessions. Instead, your recital fee (or a portion of your recital fee) would be due at that time. We highly recommend that dancers continue with their training in some capacity until we are able to hold our year-end performance. However, we understand that this may not be feasible for all families. Therefore, it will be required that dancers register for summer classes, as in past years, if they are interested in continuing their training.
Please let us know if you have a suggestion that is not listed. We are open to any idea that lets our dancers celebrate the end of this dance season!

At this point in time, we do not feel confident providing a date upon which we plan to reopen. With such a fluid situation, we plan to monitor the State's guidelines and recommendations. We believe that according to PA's newly released reopening phases, we won't be allowed to reopen until Cumberland County reaches the "Green Phase".
When we feel like it's safe to re-open, we will establish policies to protect our dancers, staff, and families. Some possible safety guidelines are:
Modified class schedule to allow for time to disinfect between classes

Lobby and dressing rooms would be closed; dancers should come to class ready to dance to eliminate cubby use

The front door would be used for entering the building

Upon entry, dancers would be required to wash their hands before going to class

The exterior studio doors would be used for exiting the building
Class sizes would be limited
No food or drink besides a personal water bottle
Markings on the floor to indicate proper distance between dancers
Wearing masks, if recommended
Dancers must stay home if they are sick or if they have traveled in the last 7 days
To begin, the studio would be open to older students that understand social distancing. When we deem it is safe for our smaller dancers, a parent chaperone may be required to assist their dancer (keeping masks on, maintaining distance between dancers, etc.) Additionally, we will continue to offer virtual lessons for those that do not feel comfortable coming to the studio yet.
Our summer schedule is live! We are ready for a complete schedule of summer offerings. Register now through Danceworks! Summer classes start June 8th!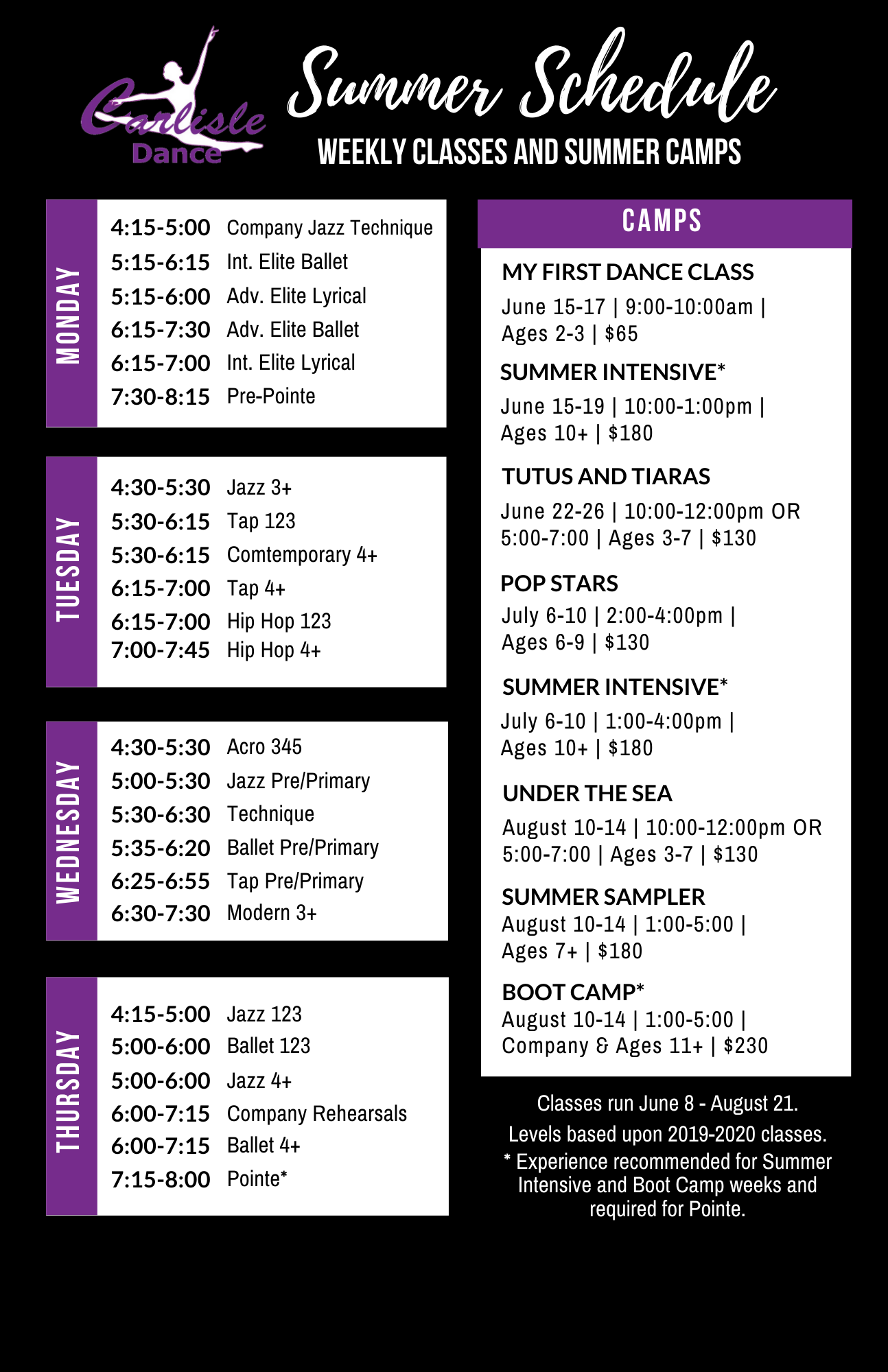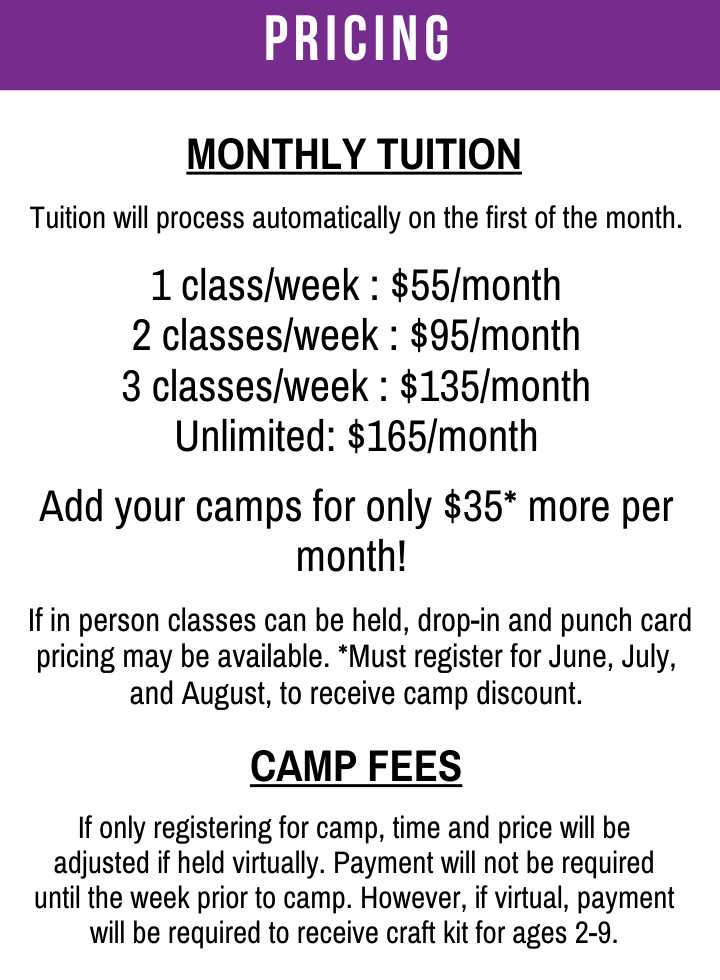 Your support means more to us now, more than ever! We are hopeful that our summer offerings will be held in person at the studio. However, we are prepared to offer the classes virtually, if necessary. Our prices and pricing model have been updated to reflect this possibility.
Interested in a summer camp? If held virtually, dancers (ages 2-9) would receive a craft kit in the mail or via non-contact porch drop off with all the supplies necessary for a fun daily craft! Dancers would also take dance class(es) virtually. For online camps, time and price would be adjusted and announced a week prior.