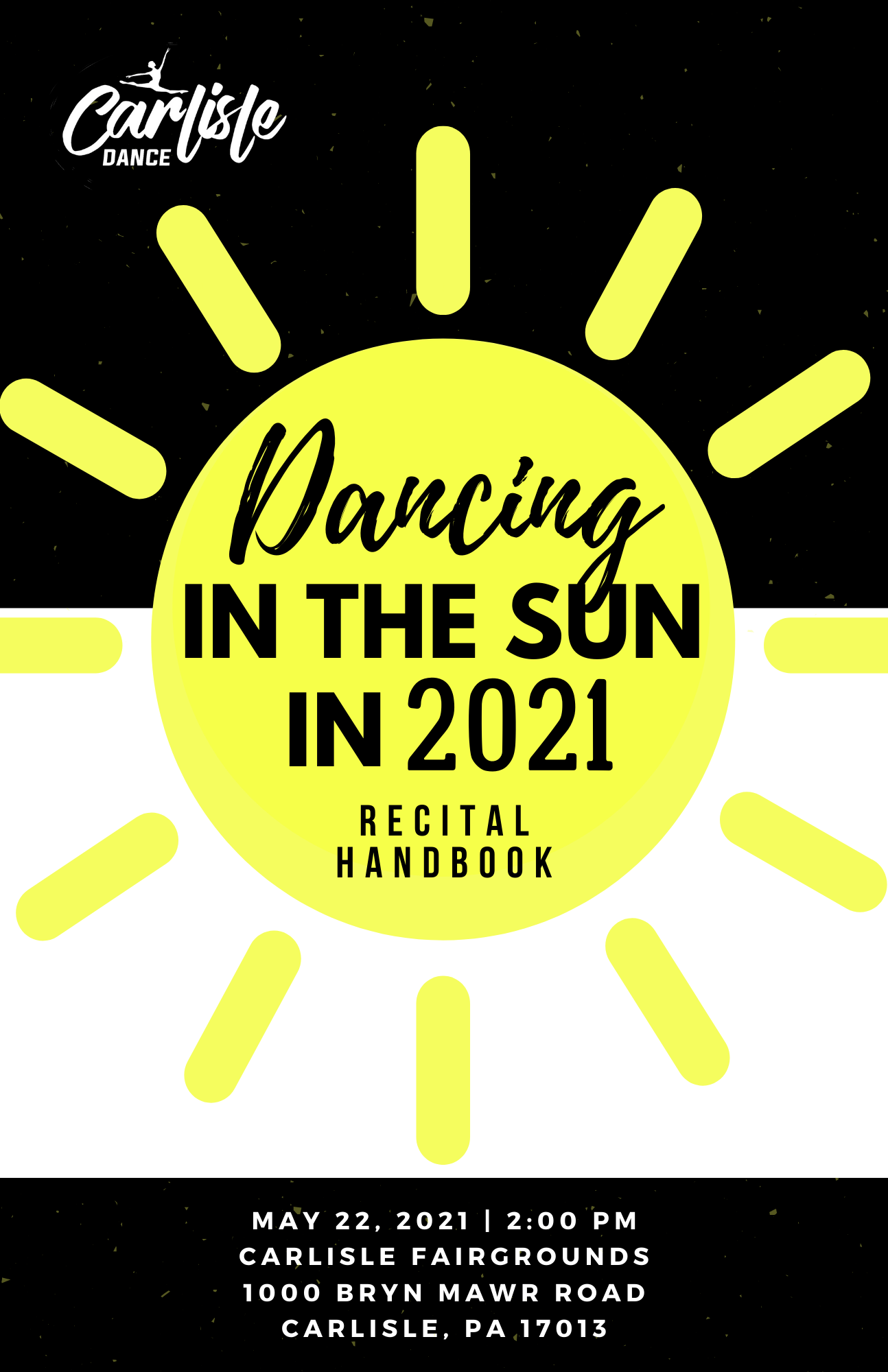 Our SPRING SHOW
Each year we celebrate our student's hard work with a year end recital.  The recital usually falls on weekend before Memorial Day.
This year our spring recital will be held:
MAY 22, 2021 at the CARLISLE FAIRGROUNDS
PURCHASE TICKETS
Tickets go on sale Monday, May 3, 2021 at 10:00am. Buy tickets here!:
EVERYTHING YOU NEED TO KNOW
Answer all of your recital questions by reading our Recital Handbook!
COUNTDOWN:
Ads Due:
Tickets On Sale:
Recital Fee Due:
Picture Day:
Dress Rehearsal:
Tech Night:
Recital:
April 25
May 3rd, 10am
May 1
May 8
May 8
May 19
May 22

Recital Tickets
May 3, 10:00am
Tickets go on sale on Monday, May 3 at 10:00am EST. Tickets are $12.
To allow for social distancing, there are no reserved seats. All tickets are general admission. While we aren't limiting the number of tickets per family, we do ask that you try to limit your tickets to 10 per family. Or purchase 10 tickets now and more closer to the show, after everyone has had a chance to purchase their block of tickets. This will allow us to have room to social distance throughout the venue. Tickets are sold on a first come, first serve basis. Children ages 3 and under are free as "lap children", however, if they require a seat, they will need a ticket. Dancers do not require a ticket.
Tickets will also be sold at the door for $15.

Program Ads
Due by April 25, 2021
Program ads are a great way for us to be able to pay down the cost of the recital.  With the generosity of the students and the community, we strive to keep our ticket prices low.  Please consider purchasing ad space for a business advertisement or for some words of encouragement for your dancer.
◾️Become a recital sponsor and have over 100 dancers support your business by getting your logo on our Recital T-shirts! Our recital sponsor(s) also receive two free tickets to the recital and specially reserved seats at the show! ◾️
Full page and half page ads are offered in color and black and white!
All advertisements must be emailed in PDF or JPG format to info@carlisledance.com. More examples will be available in the studio lobby.
Need help creating your ad? Just let us know! We are happy to help!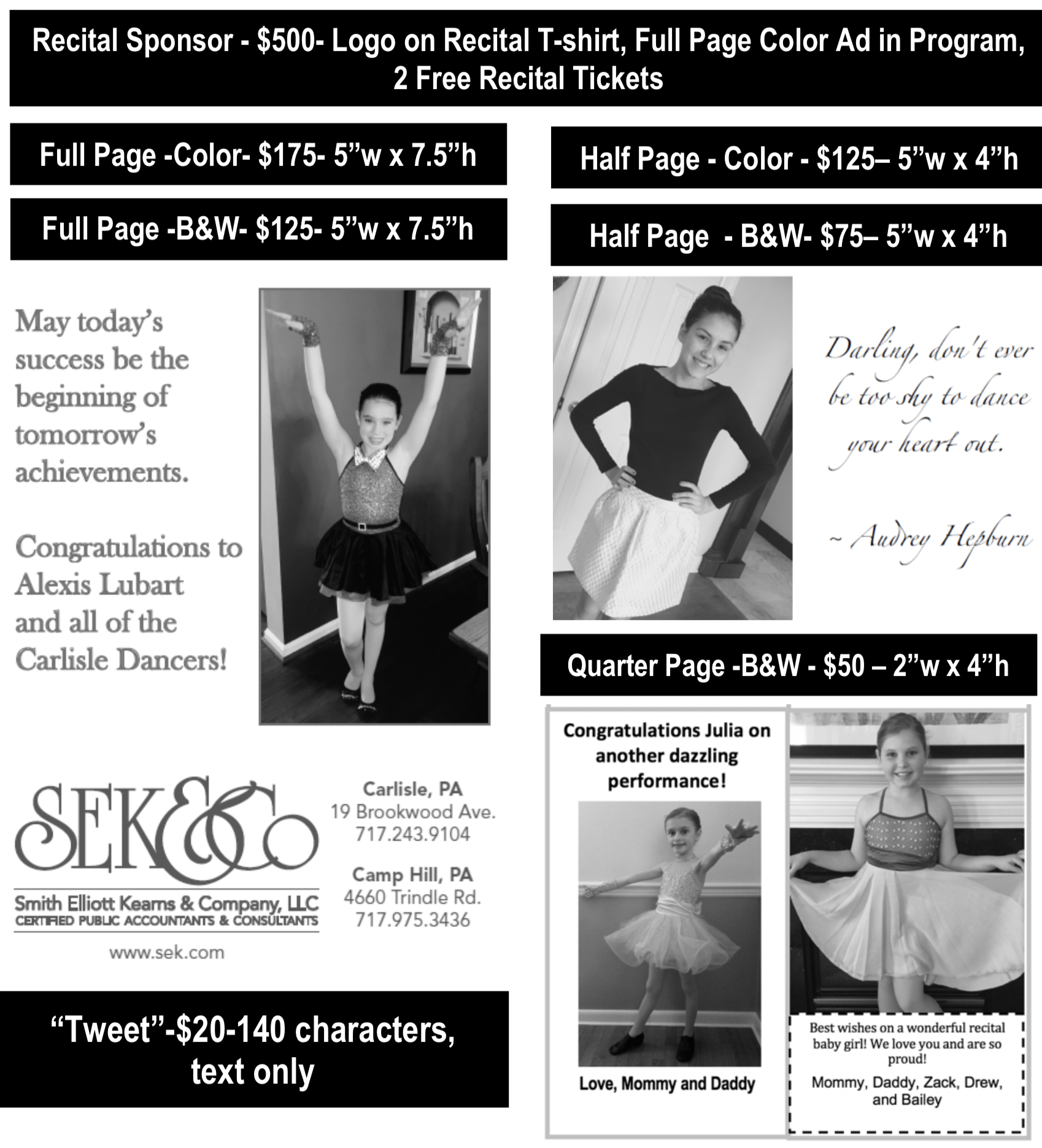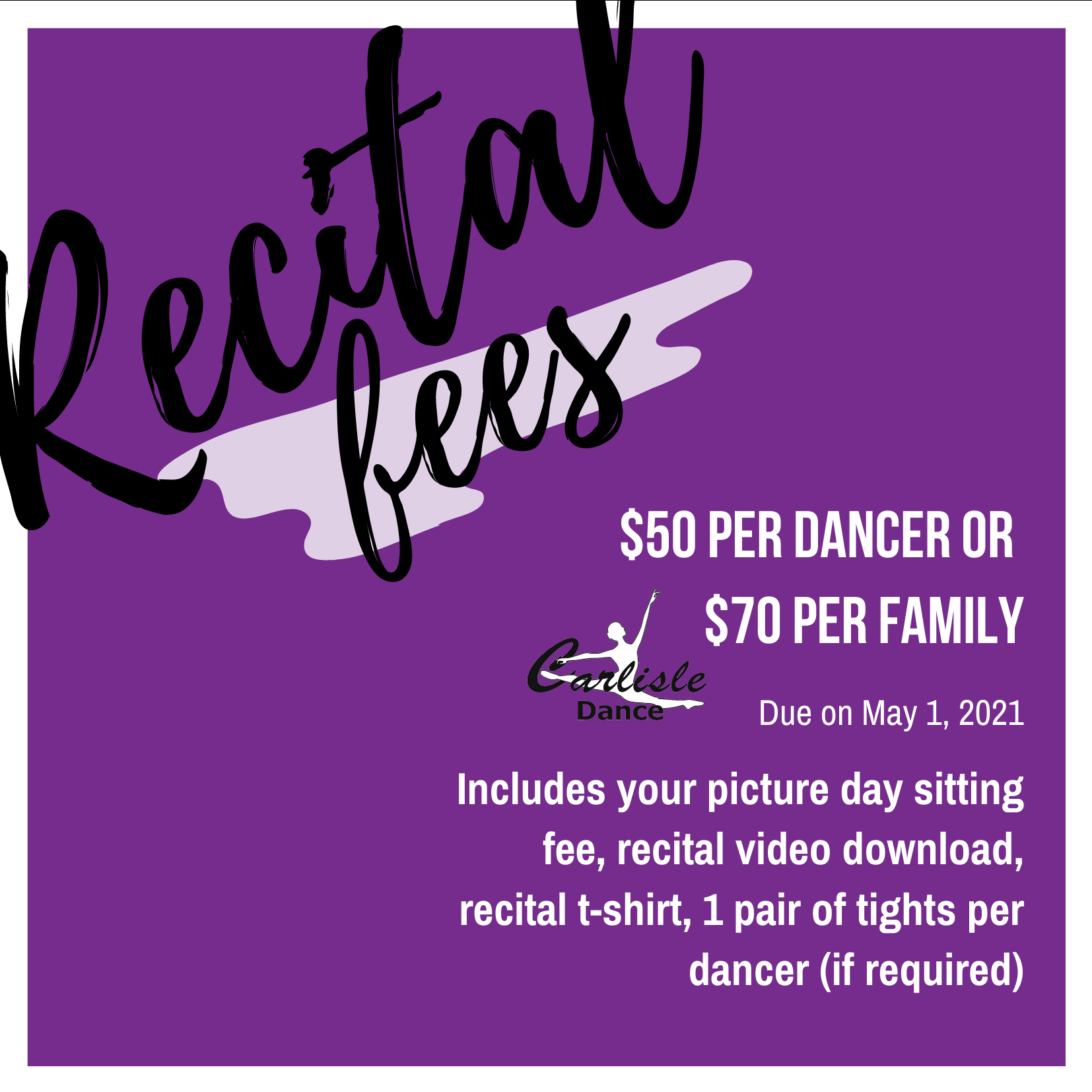 Recital Fee and video download
$50 per dancer or $70 per family
Due by May 1
Recital Fees include:
Recital video download
Picture day sitting fee(s)
1 pair of recital tights (if required)
1 recital t-shirt (per student)
With your recital fee, you will receive a professional download of each dance that can easily be shared. Our videographer will also provide an edited version of the entire show. Each family will also receive one pair of required recital tights (if required) and a recital t-shirt for each registered student. Both can be picked up at the office after your recital fee is paid!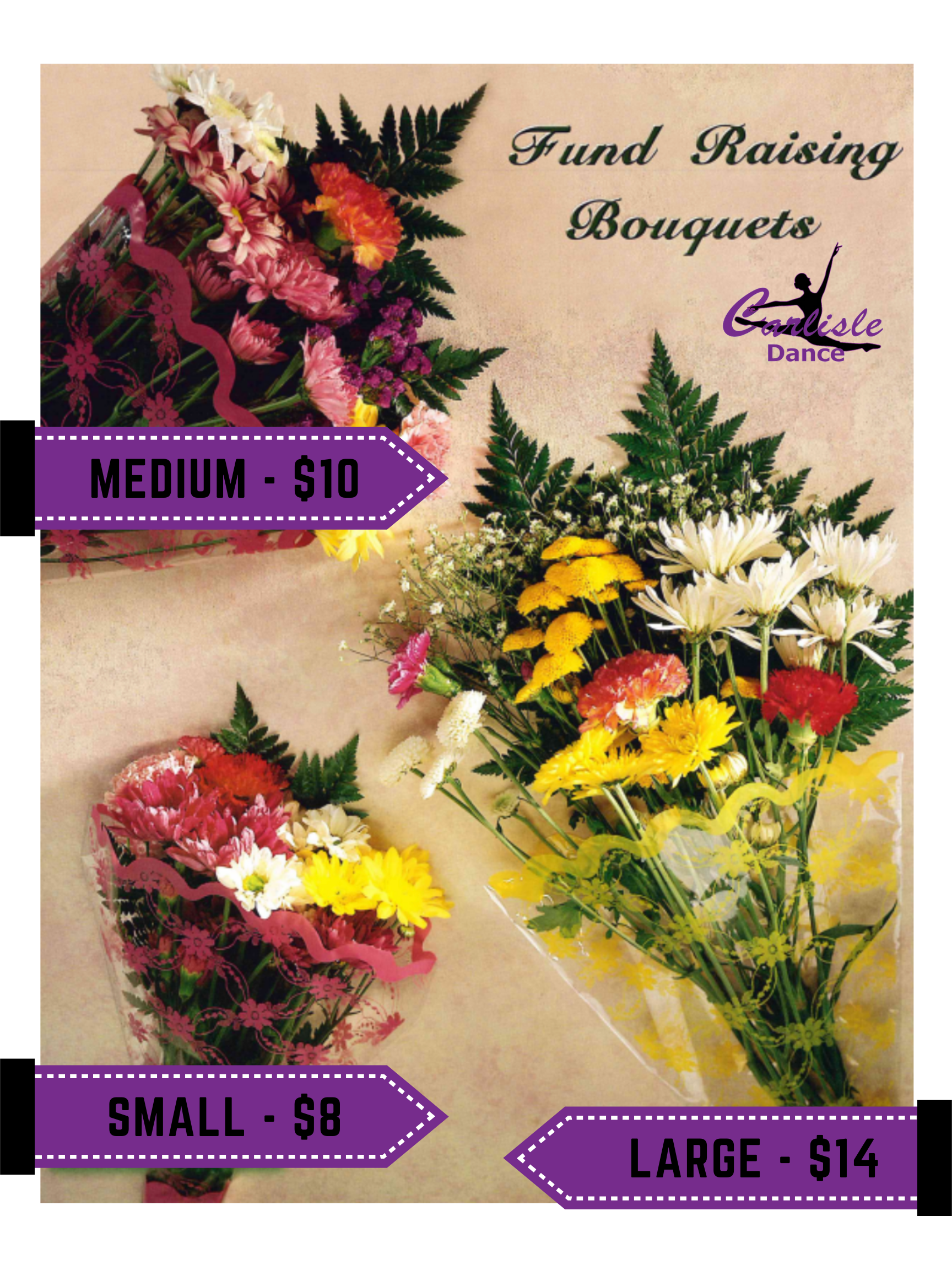 Royers's Flowers and Gifts are offering flowers for your dancer!
Orders must be placed by May 8th. Orders may be placed in the office with Gabby or via the link below. Payment is required through your Danceworks account. Any payments not made before May 1st will be automatically processed on May 10th.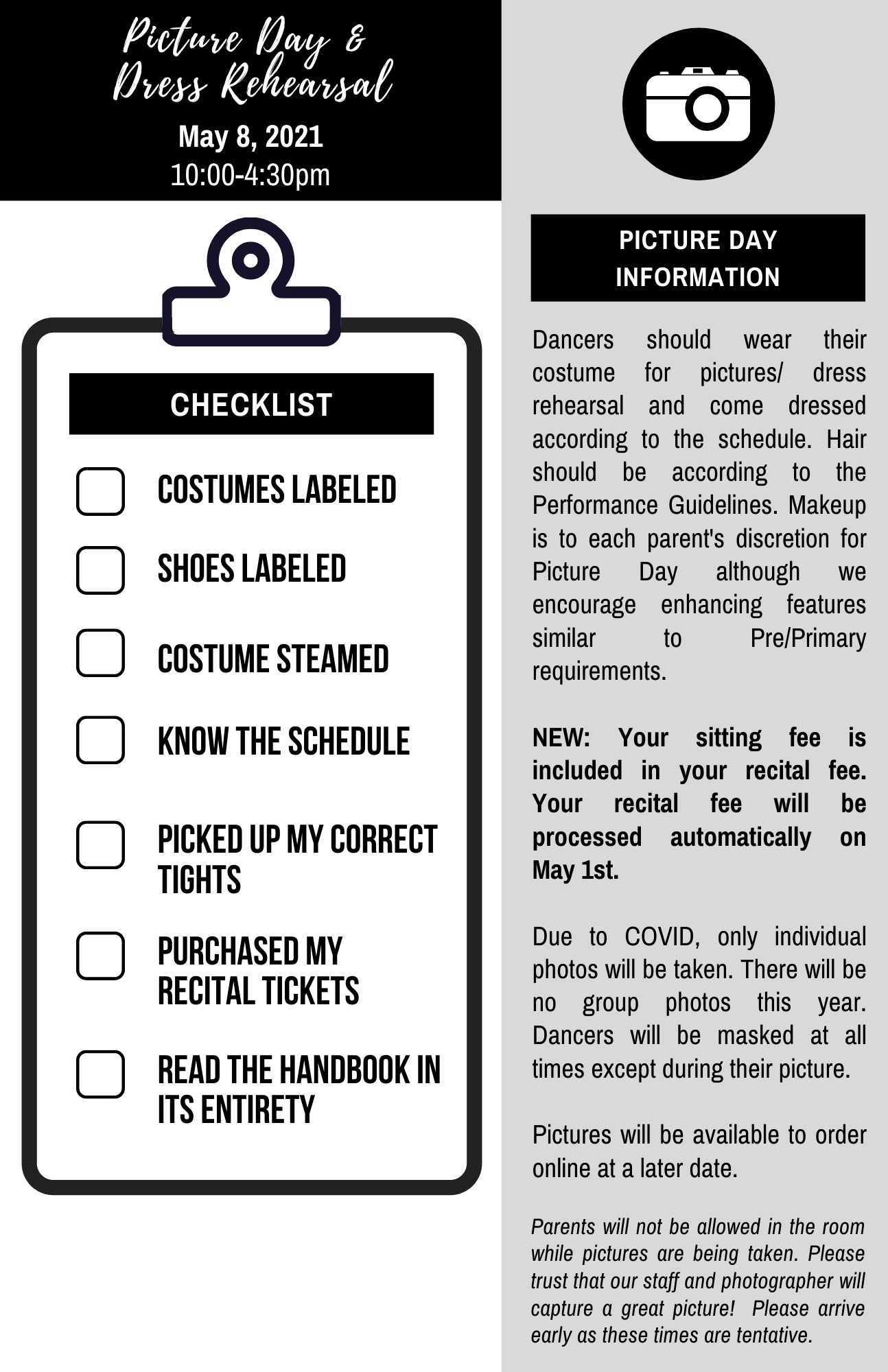 Students need to be there at the beginning of their block of time.  We will not wait for students who are running late.  Please understand that to get through all our dances in an orderly and timely fashion, we need to keep the day moving.  Each class will have approximately 5-10 minutes to rehearse followed by their picture.
Please listen for announcements in case we run out of order.  We have also been known to run early.
We will end dress rehearsal with our ballet, Coppelia. If you are a part of the ballet, please arrive fully dressed and ready no later than 3:00pm. Please check in when you arrive. Please note: For the actual show, Coppelia is first!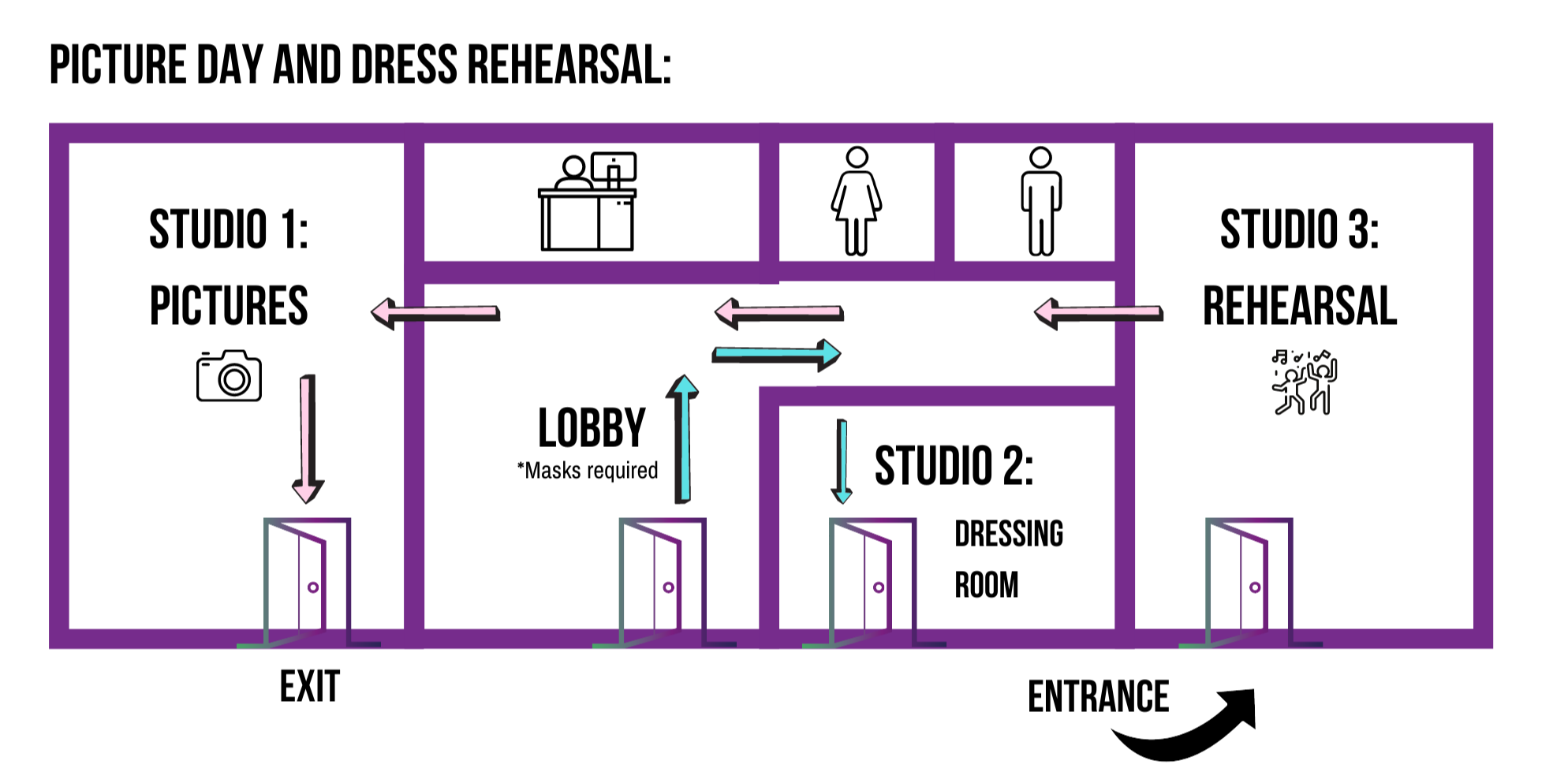 Students will enter at Studio 3 and start with their rehearsal. Please wait in your car until you see a staff member hold up a sign for your class. Parents are asked to wait outside. After rehearsal, dancers will walk to Studio 1 to have their picture taken. Ziplocks will be available for masks when removed for pictures. Once finished, dancers will exit through Studio 1 and meet their parents in the parking lot. If you don't think that your dancer will recognize your car, please have a sign with his/her name so that we can get your dancer back to you safe and efficiently.
If students have a second dance, they can enter the lobby and use Studio 2 to change their costumes. If entering the lobby, masks are required for both parents and dancers.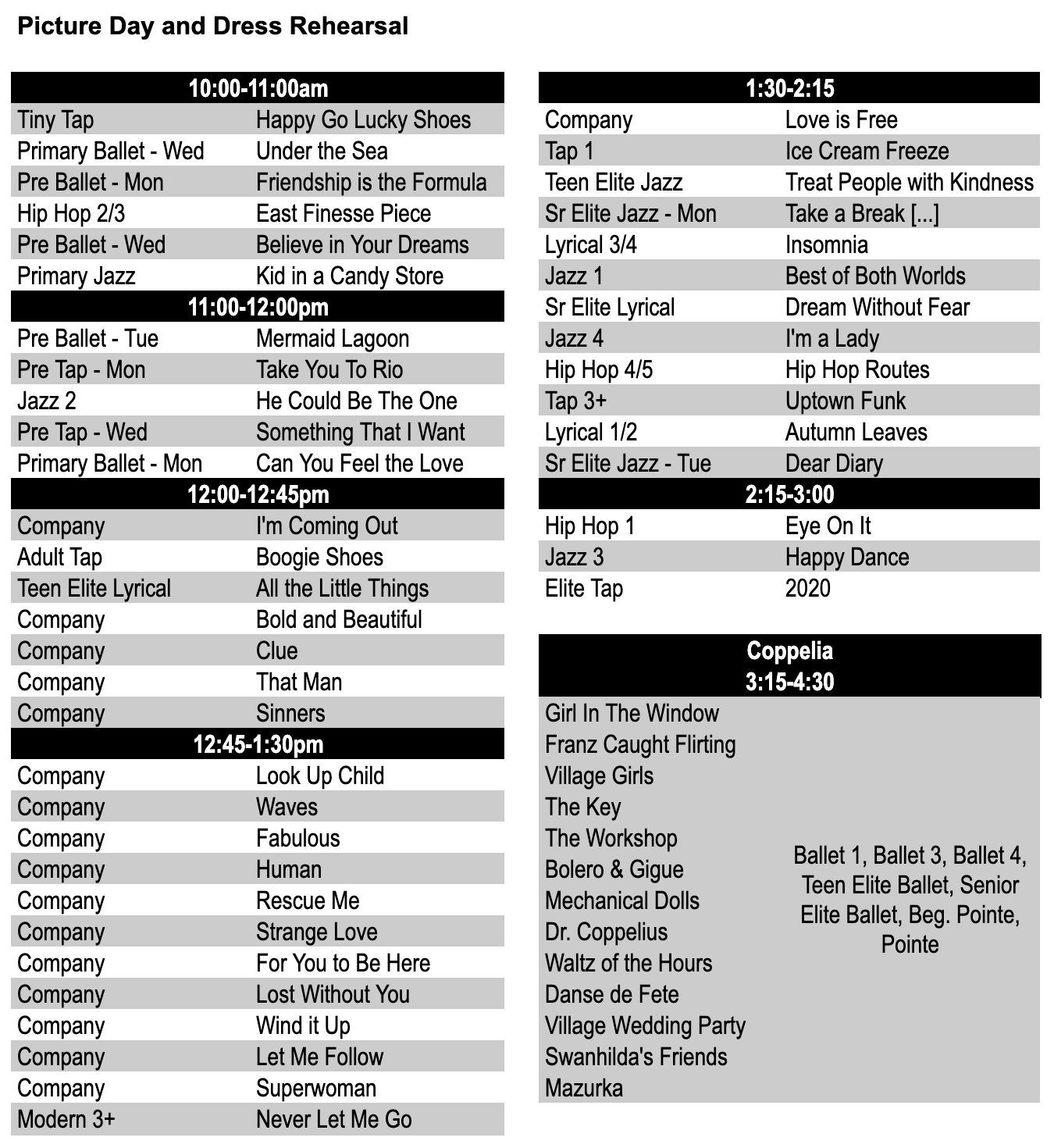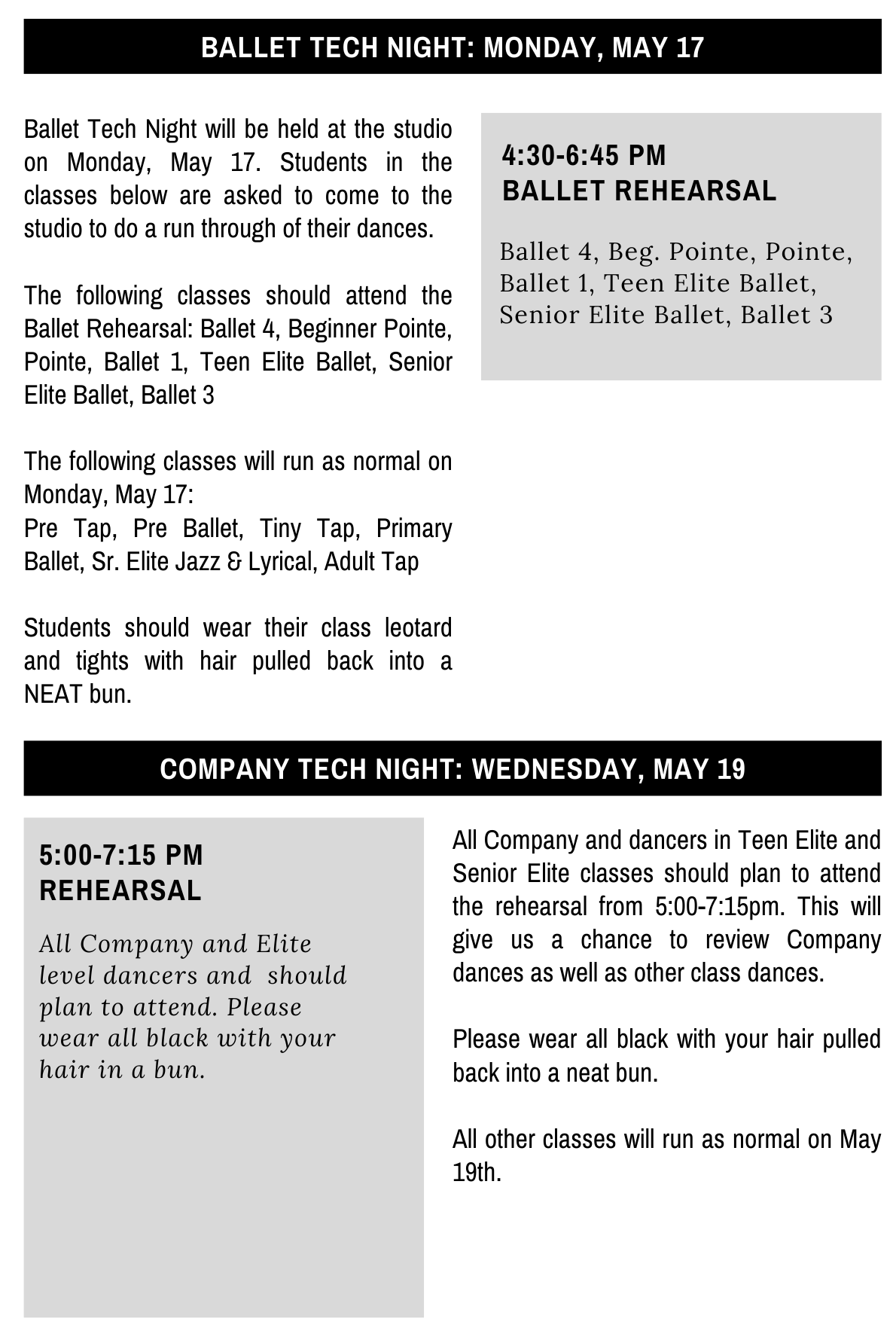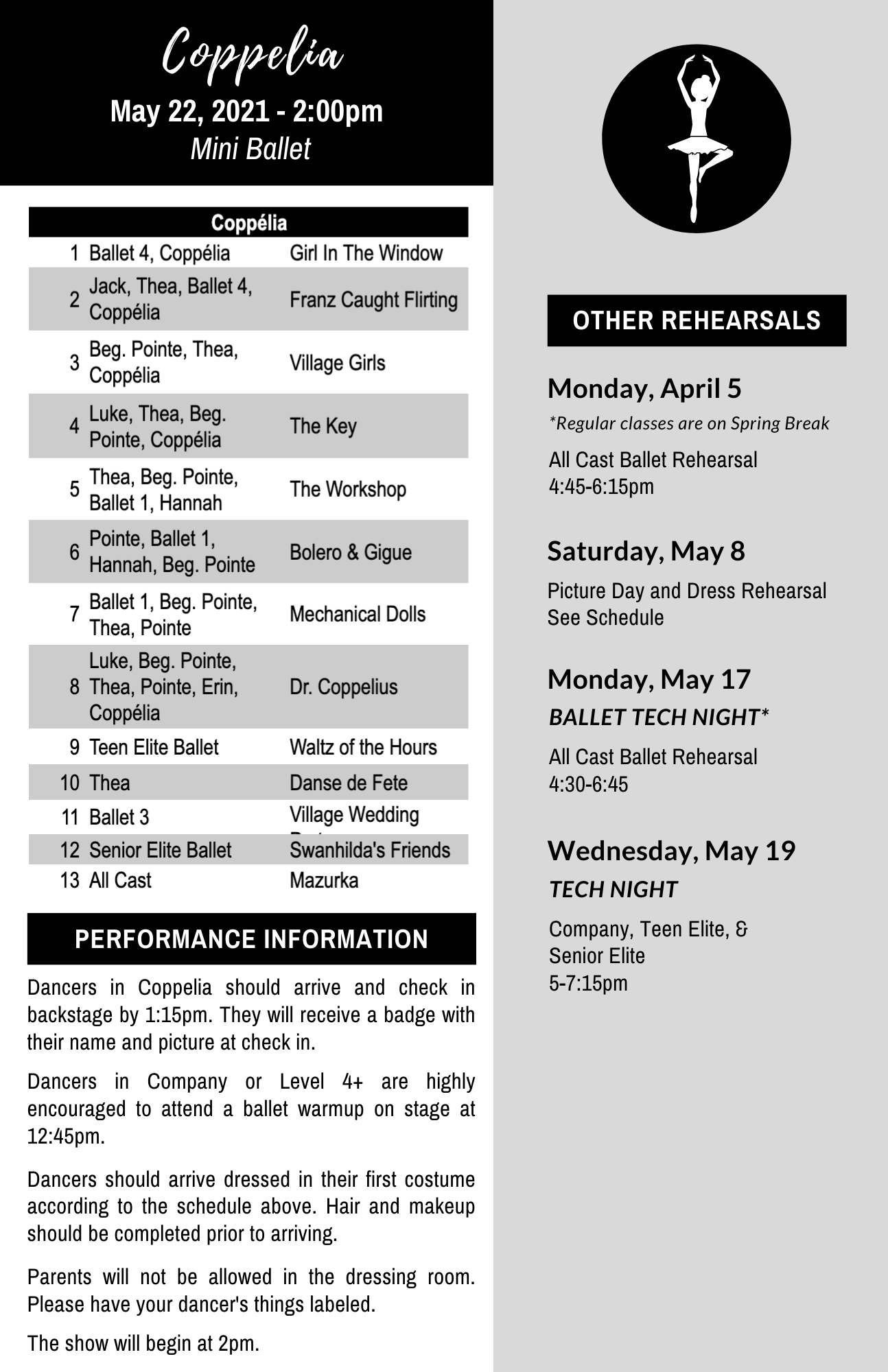 Students not in the ballet but dancing before intermission, are to be dropped off at 1:45 and picked up during intermission. This staggered check-in will help us social distance. Please do not pick up during any other times due to the distraction to the audience.
There will be a short break at the conclusion of Coppelia to clean and sanitize the stage.
Students dancing after intermission are to be dropped off at intermission and picked up at the completion of the show. We will also clean and sanitize the stage during intermission.
Each child will have a badge with their picture, name, and dances. They will receive their badge when they check in and return their badge when they are finished performing.  If your child is watching the second half of the show, but participating in finale, they should keep their badge and return it after finale.
Due to COVID, parents are permitted to change their dancers this year. If you plan to change your dancer, please email us at dance@carlisledance.com. If we do not hear from you, we will assume our faculty & staff will assist your dancer.
Dancers should arrive dressed in their first costume according to the schedule. Hair and makeup should be completed prior to arriving.
Dancers who participated in Coppelia should remain backstage after the completion of our "mini ballet". Please do not pick up dancers at the end of the show UNLESS they are done dancing for the day.
Dancers should have costumes and accessories prepared in the order of their dances. Some dancers will have quick changes due to their performance schedule and should be ready.  Staff and faculty will be available to assist with these quick changes.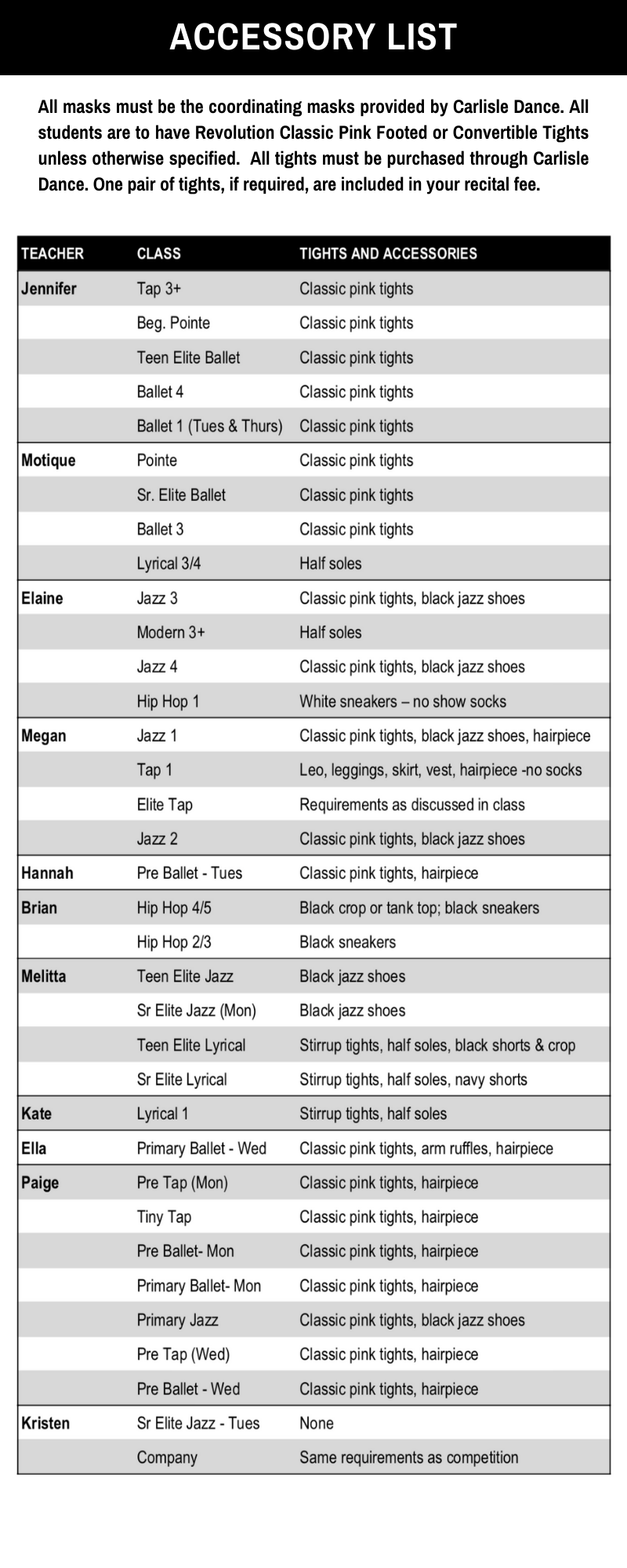 Students in the ballet need to arrive by 1:15 for a 2pm curtain. Dancers in Company or Level 4+ are highly encouraged to attend a ballet warmup on stage at 12:45pm.
Dancers not in the ballet need to arrive at 1:45pm. This staggered check-in will help us social distance.
Dancers who dance ONLY after intermission, may check in backstage during intermission.
Each child will have a badge with their picture, name, and dances. They will receive their badge when they check in and return their badge when they are finished performing.  If your child is watching the second half of the show, but participating in finale, they should keep their badge and return it after finale.
Dancers should wear their last costume for finale. 
Please label
EVERYTHING
with your child's name.  Feel free to send activities and dry snacks (such as pretzels or animal crackers) with your child.  However, we are not responsible for any lost items.
NO beverages besides water will be allowed backstage. (Nothing that could transfer onto the costumes.) 
If your student is in the first half of the show and would like to participate in finale, please have them join our helpers backstage when called.  You can then pick them up backstage after the show has finished.
With many children backstage, please be patient as we ensure all students get back to their parents as quick and efficiently as possible during pick up times. 
We appreciate your cooperation!
MAKEUP:
Makeup needs to be visible to the audience from stage. Below are some images of how makeup should look for both Dress Rehearsal and Performance Days.  We recommend the following makeup:
Eyeshadow/Blush/Lipstick: Makeup Palette, $30, Can be ordered at the office. No need to run to a bunch of different stores to get the correct makeup items! Included in each palette is your eyeshadows, blush, and lipstick. (White under eyebrow, Grey on eyelid, Black in the crease of the eye)
Fake Eyelashes: Ardell Fashion Lashes in size 105
Mascara/Eyeliner: Black eyeliner/mascara applied on both bottom and top lid
Foundation: Liquid foundation to match skin tone
Lip Stick: We recommend Maybelline Superstay Matte Ink in color Founder
Pre, Primary, and Tiny students, do not need full stage makeup, but do need some makeup to enhance their features:
Lip: Berry color
Cheek: Berry color
Eye Shadow: Grey palette
Foundation: To match skin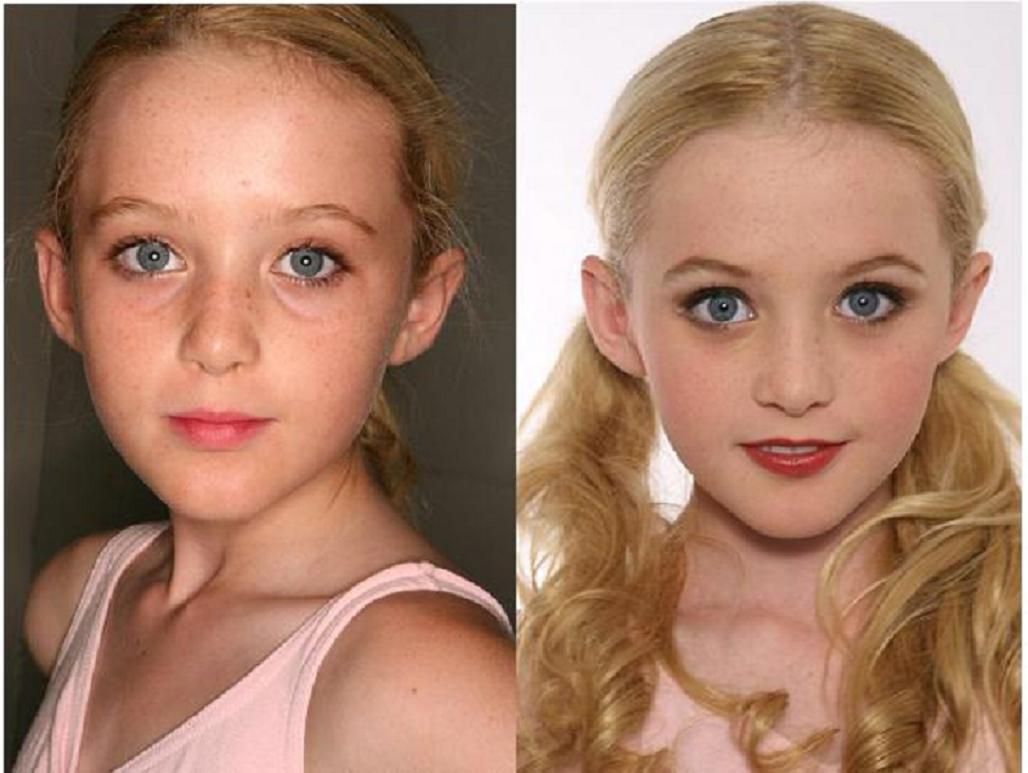 Hair needs to be in a slicked back bun with PINS and HAIRNET.  No bangs or wispy pieces should be loose or visible. Hair accessory to be worn around or to the right of the bun.
Pre and Primary: Hair not parted, accessory on top middle of bun unless specified
Levels 1-5: Hair parted on the left, accessory on right of bun
Hip Hop: Hip Hop dancers with one dance are permitted to wear their hair in a left parted ponytail. Students with quick changes or if unable to switch their hair themselves will be required to leave hair in a bun.